By Melissa Dunlap
Post
here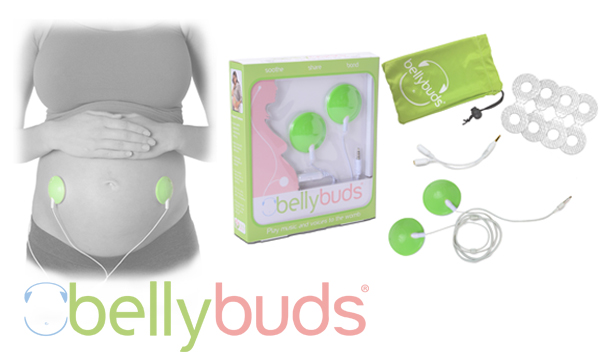 The rundown
Bellybuds, ($50) are special flat speakers that can be adhered to your belly to play music and sounds directly to your baby in womb (essentially wearable earphones for your belly).
The product was created by dad turned inventor Curtis Williams, who came up with the idea after watching his then-pregnant wife try to play music to their unborn daughter using iPod earbuds. The problem with her technique was that it left her on her back lying down — not an ideal position for pregnant women — and limited what she could do while playing music.
Realizing there wasn't currently a prenatal music player on the market, Williams came up with the idea of Bellybuds.
What it promises
A baby's hearing is fully developed in the womb at about 20 weeks and studies have shown that memories begin at 30 weeks.
Bellybuds provide parents an alternative way to give audio stimulation to their unborn child and it can help start creating music memories now. Research has found that newborns recognize, and can even be soothed by, sounds that were heard in the womb.
Plus, the experience of playing music to your unborn child can help parents further bond.
Ways Bellybuds can be used:
Moms with breech babies play music to help turn the baby
Military moms can play recorded messages from dads oversees
OBGYNS are using Bellybuds to help capture the perfect ultrasound picture
Surrogacy/adopting couples can familiarize their baby-to-be with their voices
Includes:
1 Set of Bellybuds: Bellybuds plug into standard digital music players
4 Pairs of adhesives: To secure the Bellybuds to your tummy while on the go
1 Audio splitter: You can listen to the same music as your baby this way
1 Storage pouch: Holds all the items for easy organization and portability (just toss in your purse)
To use, follow these steps:
Plug Bellybuds into any standards digital music player.
To use without adhesives, simply tuck them into your maternity pants for support.
To use with adhesives, belly should be free of lotions and oils so they adhere correctly. Follow instructions for applying adhesives to Bellybuds.
There are "Pre" and "Post" natal settings on the Bellybuds. Make sure to select the "pre"-natal setting. This setting has a lower maximum level of sound that's safe for a baby in womb.
Limit use of Bellybuds to 1 hour a day.
Consult your doctor prior to using. See product for full details.
The experience:
I was super excited to check out the Bellybuds especially after seeing the Modern Family episode where Gloria sings to the baby while wearing a pair. Having similar vocal talents as Gloria, I opted to play the baby some tunes rather than singing her lullabies (don't want to traumatize her after all).
Prior to using the Bellybuds I discussed it with my OB to get his OK and he recommended playing soft-paced tunes over wild and crazy beats.
With my baby daddy
My husband is obsessed with Vivaldi's Four Seasons, which he chose to play for our baby girl (I think he's secretly hoping it'll have the Mozart Effect). The first time we used the Bellybuds we used it without the adhesives and the elastic panel in my maternity pants held it in place just fine while sitting on the couch.
It turned out to be a great bonding experience for my husband. He cuddled up and rubbed my belly while the songs played. We both had a great time together.
With the baby's Grammie
I used the audio splitter to hook up the Bellybuds and my Apple earbuds up to my iPhone so that my mom, who is several states away, could speak to the baby while we were on the phone. Note: I kept the cell phone about 3 feet away from my belly while on the call as an extra safety precaution against cell phone radiation.
Being so far away from each other during my first pregnancy (also my mom's first grandchild) hasn't been easy and this was a fun way for her to interact with the baby.
On the move
The adhesives are a nice option for a little more mobility. I was able to wear the Bellybuds while doing a little spring-cleaning in preparation for our little one. The sticky feeling on the adhesives took a little getting used to, but they held up quite nicely and I think the amount that came in the set is enough to get me through the rest of my pregnancy.
I've heard moms say that as newborns their little one recognizes the songs they were played in utero. We still have a few more weeks before our little girl arrives and I haven't been able to test this out yet, but we are playing a rotation of Vivaldi's Four Seasons and Miles Davis' Kinda Blue to give her some music appreciation and will hopefully be able to see if she recognizes the songs after birth.
The bottom line
Bellybuds are a fun way for parents-to-be bond with their baby. Grandparents and other family members will get a kick out of the experience too. Dads who are in the military or frequently travel will likely appreciate the bonding opportunity it provides since they can record their voice to be played to the baby.
Bellybuds would be a great baby shower gift or the perfect little present for new grandparents to send expecting moms as a special treat.
Where to buy
Bellybuds are available for purchase at www.bellybuds.com, Babies "R" Us, Amazon.com, BuyBuyBaby, Diapers.com and other retailers.